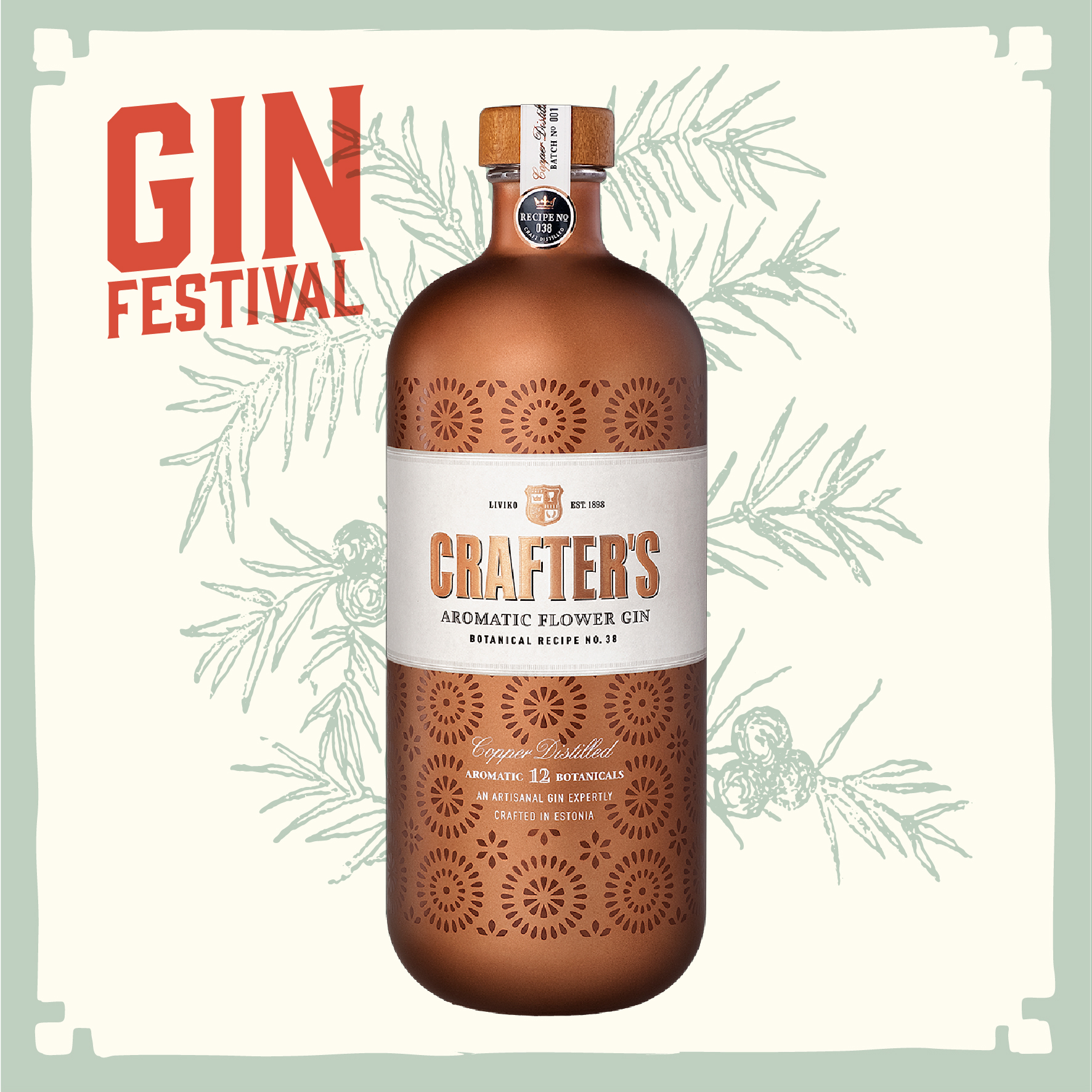 Crafter's Aromatic Flower Gin
Merk: Crafter´s Aromatic Flower Gin
Stijl Distilled Gin
Opgericht 1898
Land Estonia
Distillery Liviko AS
Master Distiller Mrs Hanna Kaur (Beverage Architect)
Omschrijving Crafter´s Aromatic Flower Gin has gained also a name as the "magic gin"! Due to the fact that this gin has ability to change colour when combined with tonic.
Crafter's Aromatic Gin's is created with 12 floral handmade distillates. Cispy juniper and fresh citrus are balanced with herbs
from beloved Estonian summer – rose hip and meadowsweet.  Rose hip petals give gin an aromatic scent and the rose golden color. They are also the secret behind the curious colour change effect.
Meadowsweet grants the gin a sweet undertone.
Botanicals juniper, meadowsweet, rose hip, lavendel, elderflower, chamomille, fennel, coriander, rose petals, yuzu, lemon peel and sweet orange
Alcohol % 44,3% vol
Perfect Serve Crafter's Aromatic Flower Gin is best served with quality tonic, slice of orange and plenty of ice in the glass!
Website www.craftersgin.com
Nose Refreshingly aromatic, flowery. Round and complex. The rose hip flowers and meadowsweet are dominating. The sweet nuance of the flower petals is balanced by the bitterness of an orange peel, the freshness of yuzu and juniper berries.
Taste Juicy, round, a bit bitter. A rich and elegant bouquet of sweet flowers and crisp juniper. The soft taste is balanced by the freshness of the citruses.
Finish Aromatic and flowery, with distinctive floral nuances.
Gin festivals Nederland
Gin is niet meer weg te denken uit Nederland. De afgelopen jaren is het G&T menu een vast onderdeel van elke bar geworden en ontdekken steeds meer mensen dat ze thuis ook perfect kunnen experimenteren met deze mix! Tegelijk komen er steeds meer nieuwe merken op de markt. Het Gin Festival is de perfecte plek om met alle nieuwe èn oude gins kennis te maken. Je ontmoet de makers ervan, hoort hun verhalen en proeft de lekkerste combinaties.